The 78th Golden Globe Awards will honor the best in American television of 2020 as well as film in 2020 and early in 2021 (thank you COVID-19). The Hollywood Foreign Press Association (HFPA) choose the nominees early, sometimes. This will be the first bi-coastel ceremony hosted by Tina Fey co-hosting from the Rainbow Room in NYC and Amy Poehler co-hosting from The Beverly Hilton in Beverly Hills, California.
Below are my predictions of who will win (based on HFPA standards) as well as who I think should win in the Film categories! Tune in on February 28th at 5PM PST to see if your faves will take home the Golden Globe!
Best Picture, Drama
The Father
Mank
Nomadland
Promising Young Woman
The Trial of the Chicago 7
Will Win: Nomadland; the HFPA loves anointing an Oscar front-runner and creating the awards season buzz and they (alongside critics globally) are praising Chloe Zhao's third feature, a poetic character study on the forgotten and downtrodden American dream that beautifully captures the restlessness that was left in the wake of the Great Recession. The film has won numerous awards across the festival circuit in 2020 and the upcoming Marvel film Eternals (helmed by Zhao) is generating blockbuster and critical buzz already…and we haven't seen one promotional photo or teaser yet! This is Zhao's year. Hear me out! BUT, in true HFPA I would not be surprised if
Should Win: Nomadland OR The Father OR Promising Young Woman; see above for Nomadland but The Father moved me in so many ways that it was the one film besides Promising Young Woman that really stuck with me after leaving the theater. All three of these have something distinct to say and each deserve to be deemed the best of the year.
Best Picture, Comedy or Musical
Borat Subsequent Moviefilm
Hamilton
Music
Palm Springs
The Prom
Will Win: Borat Subsequent Moviefilm; in this category, there are two controversial films with the ableist Sia written-directed film Music (poorly reviewed) and Hamilton which is not really a movie (a filmed Broadway production that was released on a streaming service). The fact that Meryl Streep was snubbed is a bad sign for The Prom. And the remaining two (Palm Springs and the Borat sequel) are actual funny comedies. The Sacha Baron Cohen starrer actually had something to say about the current state of America and the HFPA should eat that right up.
Should Win: Borat Subsequent Film; see above.
Best Animated Feature Film
The Croods: A New Age
Onward
Over the Moon
Soul
Wolfwalkers
Will Win: Soul; For the first time in five years, two Disney/Pixar films are nominated in this category. And for the first time since Inside Out, Disney has explored very complex adult themes in a gorgeously animated and unique way. Walt Disney Animations and Pixar films have never usually lost this category before and the HFPA tends to award the most beautifully animated films versus an animated film that encompasses everything: story, voice acting, production quality and design. Luckily Soul has it all.
Should Win: Soul; see above.
BEST FOREIGN LANGUAGE FILM
Another Round
La Llorona (Guatemala)
The Life Ahead (Italy)
Minari (USA)
Two of Us (France)
Will Win: Minari (USA); first of all, the HFPA has generated controversy over their decision to nominate Minari in the Foreign Language category although the film is 100% financed and produced by American Film Studios as well as starring several American-born actors and telling an American immigrant story (similar to 2019's The Farewell). Out of the five movies nominated here, Minari is the most worthy of an award for its beautifully intimate and heart-wrenching portrait of family and assimilation in the 1980s America. YES, it is an American story told in Korean and English but the movie is a universal story that people around the world resonated with.
Should Win: Minari; see above.
BEST DIRECTOR FOR A MOTION PICTURE
Emerald Fennell, Promising Young Woman
David Fincher, Mank
Regina King, One Night in Miami
Aaron Sorkin, The Trial of the Chicago 7
Chloe Zhao, Nomadland
Will Win: Chloe Zhao! I have been a huge fan of Zhao's since her debut with her Sundance debut Songs My Brothers Taught Me. Emerald Fennell's breakout debut has proved to be a promising winner as well, especially in HFPA eyes where they love to anoint and give their stamp approval to new and upcoming talent but I think Zhao will take the trophy home for her amazing direction of American nomadic life that is so tender, beautiful, heartfelt and with a human eye.
Should Win: My Queen Chloe Zhao. Although I think any of the women nominated in this category should win because they brought something new, unique, powerful and fresh to their stories and films that no other director managed to do this year. (Plus I just have a sweet spot for Fennell, who also stars as Camilla Bowles in The Crown and my forever Queen, Regina King).
BEST PERFORMANCE IN A DRAMA, ACTOR
Riz Ahmed – Sound of Metal as Ruben Stone
Chadwick Boseman – Ma Rainey's Black Bottom as Levee Green
Anthony Hopkins – The Father as Anthony
Gary Oldman – Mank as Herman J. Mankiewicz
Tahar Rahim – The Mauritanian as Mohamedou Ould Salahi
Will Win: Chadwick Boseman, Ma Rainey's Black Bottom; the late Boseman is the front-runner for his career-best turn in the Netflix adaptation of August Wilson's Ma Rainey's Black Bottom. The actor has also never won awards across the many award shows or organizations, and the sad reality that he will never be nominated again may result in the HFPA awarding him in honor of his legacy.
Should Win: Boseman OR Anthony Hopkins, The Father; Boseman deserves it hands down for holding his own against a stunning Viola Davis but Anthony Hopkins turn as an aging Welshman who must deal with his progressing memory loss is a heart breaking and beautifully acted role that only the Welsh King himself could do justice in the way it was written and adapted. I have never wept in a movie more than for his.
BEST PERFORMANCE IN A DRAMA, ACTRESS
Viola Davis – Ma Rainey's Black Bottom as Ma Rainey
Andra Day – The United States vs. Billie Holiday as Billie Holiday
Vanessa Kirby – Pieces of a Woman as Martha Weiss
Frances McDormand – Nomadland as Fern
Carey Mulligan – Promising Young Woman as Cassandra "Cassie" Thomas
Will Win: Carey Mulligan, Promising Young Woman; Mulligan delivers a once in a lifetime performance that has surprise turns and twists with her character's choices in the narrative and dismantles a subdued persona to create a unique character. Plus the film is nominated for four prizes and by HFPA math it is going to win somewhere and it feels most likely to win in this category especially since McDormand and Davis have won recently too.
Should Win: Mulligan OR Frances McDormand, Nomadland; I really think this year's award season is Mulligan vs. McDormand. Mulligan has been nominated for several awards over the course of her career and hasn't won many whereas McDormand picks up awards almost yearly. But don't get me wrong! McDormand brings the nomad Fern to life in such a human way that you almost forget she's acting through the course of the movie and it's a documentary.
BEST PERFORMANCE IN A MUSICAL OR COMEDY, ACTOR
Sacha Baron Cohen – Borat Subsequent Moviefilm as Borat Sagdiyev
James Corden – The Prom as Barry Glickman
Lin-Manuel Miranda – Hamilton as Alexander Hamilton
Dev Patel – The Personal History of David Copperfield as David Copperfield
Andy Samberg – Palm Springs as Nyles
Will Win: Sacha Baron Cohen, Borat Subsequent Moviefilm as Borat Sagdiyev; voters may want to pick Lin-Manuel Miranda's starring turn as Hamilton but in so many ways it should be disqualified. It is a "television" movie and it did not premiere in theatres and should be in the Television category. Corden's flamboyant performance is offensive in 2020 for LGBTQ+ characters. Samberg's role does not extend his range and just feels like an extend SNL sketch to a degree. Baron Cohen's performance in the sequel to the acclaimed yet controversial film is as hilarious if not more hilarious given the comedic political themes.
Should Win: Sacha Baron Cohen; don't get me wrong, Dev Patel is TERRIFIC in the comedic Armando Iannucci adaptation of David Copperfield, but the film left me in the cold. This Baron Cohen's to win…I have never laughed or gasped so much in a film in 2020.
BEST PERFORMANCE IN A MUSICAL OR COMEDY, ACTRESS
Maria Bakalova – Borat Subsequent Moviefilm as Tutar Sagdiyev
Kate Hudson – Music as Kazu "Zu" Gamble
Michelle Pfeiffer – French Exit as Frances Price
Rosamund Pike – I Care a Lot as Marla Grayson
Anya Taylor-Joy – Emma as Emma Woodhouse
Will Win: Maria Bakalova, Borat Subsequent Moviefilm as Tutar Sagdiyev; the young breakout star has no major competition in this category aside from Kate Hudson (Music), in terms of their movies being nominated for the big award and usually a winner is crowned from a movie that is nominated. Bakalova gives one of the best comedic performances in a widely seen digital blockbuster.
Should Win: Bakalova OR Michelle Pfeiffer, French Exit; Pfeiffer is to seldom ranked the best of her generation and her starring turn in the rarely seen 2020 film is a gorgeous insight into a withering hauteur and she spends every scene elevating her power in Azazel Jacobs' depressed comedy.
BEST SUPPORTING ACTOR
Sacha Baron Cohen – The Trial of the Chicago 7 as Abbie Hoffman
Daniel Kaluuya – Judas and the Black Messiah as Fred Hampton
Jared Leto – The Little Things as Albert Sparma
Bill Murray – On the Rocks as Felix Keane
Leslie Odom Jr. – One Night in Miami as Sam Cooke
Will Win: Daniel Kaluuya, Judas and the Black Messiah as Fred Hampton; the biggest film in this category is definitely the Sorkin directed-penned The Trial of the Chicago 7 but I expect Baron Cohen to take the Globe home for the Borat sequel. Leto is a surprise nominee in this category. Murray was great and reminded me of his golden comedy days in the Sofia Coppola A24-AppleTV+ joint film. Odom Jr. was fantastic as Sam Cooke but nothing beats Daniel Kaluuya's electrifying, powerful and mesmerizing performance as Fred Hampton.
Should Win: Daniel Kaluuya; see above.
BEST SUPPORTING ACTRESS
Glenn Close – Hillbilly Elegy as Bonnie "Mamaw" Vance
Olivia Colman – The Father as Anne
Jodie Foster – The Mauritanian as Nancy Hollander
Amanda Seyfield – Mank as Marion Davies
Helena Zengel – News of the World as Johanna Leonberger
Will Win: Olivia Colman, The Father; another awards seasons, another Colman-Close duel that I foresee ending like the Oscars in 2019. The HFPA adores the multi-Globe-winning star and she holds her own against Anthony Hopkins in the devastating ride in The Father.
Should Win: Colman, because she's my Queen; OR Helena Zengel, News of the World; I have never been wowed by a child actress who holds her own with Tom Hanks as much as I have with Zengel's scene and film stealing role as the non-English speaking Johanna in Paul Greengrass's western drama.
BEST SCREENPLAY
Emerald Fennell – Promising Young Woman
Jack Fincher – Mank
Aaron Sorkin – The Trial of the Chicago 7
Florian Zeller & Christopher Harmon – The Father
Chloe Zhao – Nomadland
Will Win: Aaron Sorkin, The Trial of the Chicago 7; an eight time nominee in this category, and two time winner, I anticipate the HFPA to want to give some love to Aaron Sorkin for his Netflix film, in at least this category. As with most films, their screenplays usually capture the beauty in the characters and the dialogue that we see on screen and this film out of the others in the category is one of the strongest thanks to the witty and fast paced dialogue that comes in a Sorkin-penned film. It is also the most overtly political in the category and I anticipate the HFPA will want to make a statement.
Should Win: Florian Zeller & Christopher Harmon, The Father; as a screenwriter myself, this is the one movie that truly shook me to my core in terms of its composition and its story structure. Every scene moved you forward or backwards in the narrative (depending on how you see it). Each scene showed us something new by not necessarily showing us anything new…sounds crazy but you have to watch it to believe it! Zeller adapts his stage play with such precision you do not get lost at all. And the screenplay is structured to give the audience the feeling that you yourself had dementia or a form of memory loss and for that will I forever be amazed.
BEST ORIGINAL SCORE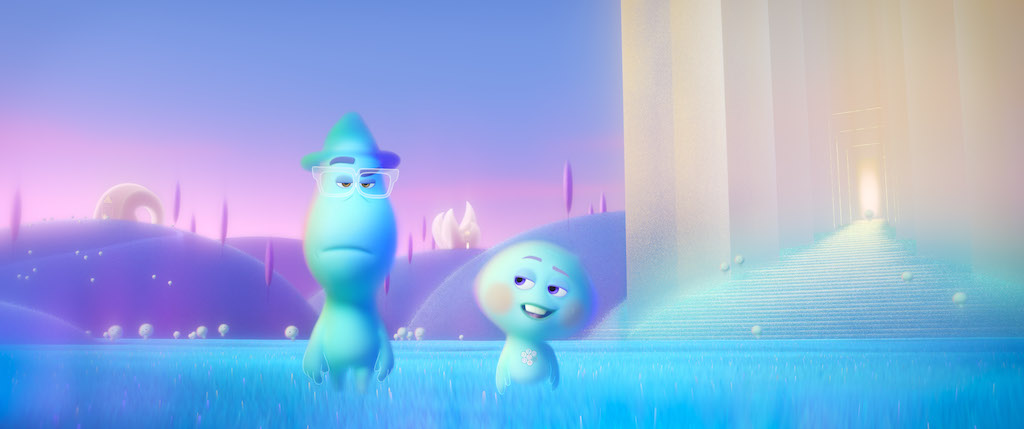 Alexandre Desplat – The Midnight Sky
Ludwig Goransson – Tenet
James Newton Howard – News of the World
Trent Reznor, Atticus Ross and Jon Batiste – Soul
Trent Reznor and Atticus Ross – Mank
Will Win: Trent Reznor, Atticus Ross and Jon Batiste, Soul; the score of the Pixar film was probably one of the best soundtracks in Pixar's history! Sporting a jazz score that is not just an adornment of the story or an emotional enhancement, but a crucially integral part of the narrative…which is what you want out of a film's score!
Should Win: the Soul team; see above.
BEST ORIGINAL SONG
"Fight for You" (D'Mile, H.E.R., & Tiara Thomas) – Judas and the Black Messiah
"Hear My Voice" (Celeste & Daniel Pemberton) – The Trial of the Chicago 7
"Io si (Seen)" (Niccolo Agliardi, Laura Pausini, & Diane Warren) – The Life Ahead
"Speak Now" (Sam Ashworth & Leslie Odom Jr.) – One Night in Miami
"Tigress & Tweed" (Andra Day & Raphael Saadiq) – The United States vs. Billie Holiday
Will Win: "Speak Now" (Sam Ashworth & Leslie Odom Jr.), One Night in Miami; the HFPA have historically awarded the most mainstream song in this category the Golden Globe but this year, none of the contenders can be considered "mainstream" or heard on Top 40 radio. I anticipate they will award the Leslie Odom Jr. penned song the Globe for being a powerful testament both lyrically and melodically as a rallying cry for this summer's BLM movement.
Should Win: "Speak Now" OR "Fight for You" OR "Hear My Voice"; honestly any of these three songs for their beautiful composition and inspirational lyrics about fighting for yourself and making sure your voice is heard in society.